To Boldly Go Where No Pope Has Gone Before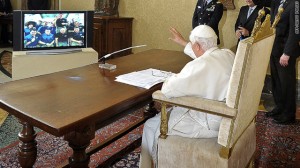 During his conversation with the crew of the International Space Station yesterday, Papa Benedetto made a surprize announcement of historical importance. He revealed that he would be making a pastoral visit to the station in 2012.
Seriously, Papa Benedetto did make history yesterday when he talked to the crew of the ISS. He is the 1st Pope to talk to astronauts during their time in orbit. Here is a video of that conversation.
More of the story
here
.
& who knows, if we finally colonize the Moon, maybe someday we will see a Pope go where no Pope has gone before.