Is T.P.ing the Vatican a Mortal or Venial?
Over @
Splendor of Truth
, Jeff Miller reports that "
Renova, a Portuguese paper company, is celebrating Pope Benedict XVI's upcoming trip to Madrid by releasing special edition Papal toilet paper. The yellow and white rolls–representing the colors of the Papal flag–are being released for World Youth Day. The product's description on Renova's website calls them "streamers," yet they come in the same packaging as their toilet paper and can only be found in the toilet paper section of their site
." (
Papal Toilet Paper
)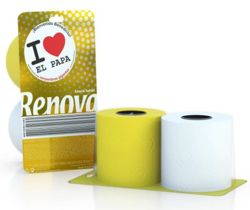 I've been arround long enough to have seen plenty of tacky items for various events. So this news didn't surprize me. I am sure there will be plenty of other kitschy items available during World Youth Day.
However Jeff's comment "Well now I know what to use if I ever decided to T.P. the Vatican." does raise a serious theological question. If he did so would it be a mortal sin, or a venial sin? Or would the seriousness of the sin depend on how much of the Vatican was T.P.ed?