Why pray when so many need attention?
This question was asked by a reader for a

column

in the DBQ TH. The 1st answer was given by a former pastor of mine (Sacred Heart in Oelwein back in the 70s), so I admit to being a bit prjudiced. I also suspect this was slightly edited by the TH as it is a little shorter than the full answer I would have expected from him.
Question: Why spend time and energy worshipping God, when there are so many people in the world today who need love and attention and, therefore, your time and energy?
God must come 1st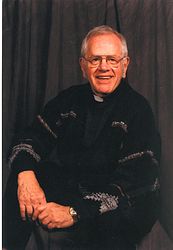 The Rev. Richard Kuhn, pastor of St. John the Baptist, Peosta, Iowa, and Holy Family, New Melleray:
This question reminds me of Mother Theresa's comment, "We could not serve the poor of Calcutta without our holy hour of adoration each morning."
The awful scenes of disease and hunger upon its streets required a unique strength for those nuns who ministered to those afflicted.
That grace of God comes from worship. It is an ancient heresy (religion) that we do good by ourselves. Now the same error flourishes. Why go to church? Why receive the sacraments? Why even turn to God's work or seek his aid in prayer?
God must come first because he is first. He is the creator. We are his creations. Without him we can do nothing. These are the basics. The first and greatest sin is pride. Perhaps the most difficult virtue is humility.
I vividly remember a conversation with a student at Upper Iowa University years ago. It was just before exams. I said to him, "I suppose you are really praying for success in your tests." He replied, "No way. You either know it or you don't."
To me, who had been taught to pray to the Holy Spirit before reading the Scripture or engaging in study, I was taken aback. What cockiness!
May we all recognize the great need of Christian love and attention in today's world. May we be willing to give our time and energy like success depends on it.
At the same time, may we acknowledge with Lord Alfred Tennyson, "More things are wrought by prayer than this world dreams of!"