Papa Benedetto - Socially Communicated the Letter & Authentic Spirit of Vatican II
This evening I dug out my copy of Servant of God
Fr. John Hardon, SJ
's
The Catholic Catechism
to finish reading Section II on
The Living God
.
This is what I read: "Running as a theme throughout the documents of the latest ecumenical conclave of the Catholic Church (i.e. Vatican II) is the awareness that a new era has dawned in the history of humanity:. . . . .the media of social communication are setting off chain reactions for the widest possible circulation of ideas and feelings."
Compare that to the opening paragraph of Papa Benedetto's message: "I would like to offer you some reflections on an increasingly important reality regarding the way in which people today communicate among themselves. I wish to consider the development of digital social networks which are helping to create a new "agora", an open public square in which people share ideas, information and opinions, and in which new relationships and forms of community can come into being."
Although it is obvious that neither the Council Fathers, in writing
Inter Mirifica,
or Fr. Hardon, in writing about what was taught, specifically foresaw Facebook, Twitter, YouTube or even text messaging, it is clear that the Holy Spirit had guided the Council Fathers to look ahead & guide the faithful in how to use the new technologies that were nascent in the 60s. In fact, World Communications Day was established by Vatican II.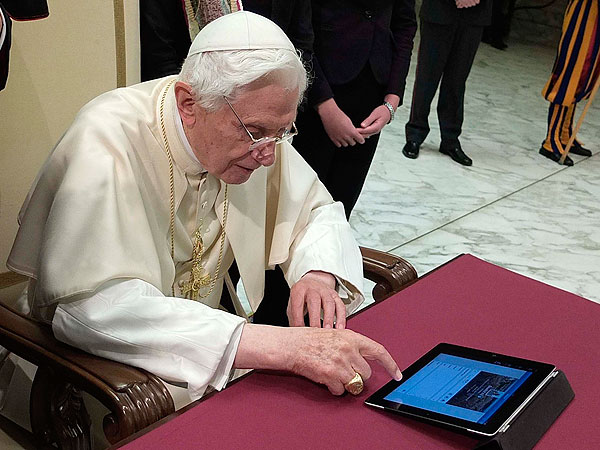 Papa Benedetto clearly sees the importance of using all the tools out there to spread the message of the Gospel as well as to help build up the Body of Christ in greater unity. He was there at Vatican II when they taught about communicating in the world using today's tools. He knows what the true spirit of those words is, the Holy Spirit, not some nebulous spirit that clearly has nothing to do with Vatican II no matter how many people try & invoke it. He is doing what he can to see that people know what the Catholic Church actually teaches & expects them to live out as they should.
So, the next time you hear someone say that Papa Benedetto is trying to take the Church back to the days before Vatican II, you have 1 more proof that he isn't. Instead he is doing exactly what Vatican II intended all along.
Note: Fr. Hardon shared the same vision that both Venerable Pope John Paul II & Papa Benedetto had of properly implementing
Inter Mirifica
. In fact there is a
media apostolate
that is doing just that.