Yesterday Was the 33rd Anniversary of Venerable Fulton J. Sheen's Death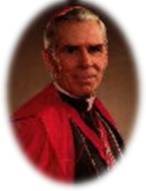 I had the blessing of seeing
Venerable Archbishop Fulton J Sheen
in person twice. Since I didn't get a chance to honor his memory yesterday I would like to do so today.
Here is his appearance on
What's My Line?
:
There are way too many videos to chose from, so I will leave you to go to You Tube & watch them.
May God soon grant us the blessing of his being raised to the honors of the altar.
Prayer for Canonization
Heavenly Father, source of all holiness, You raise up within the Church in every age men and women who serve with heroic love and dedication. You have blessed Your Church through the life and ministry of Your faithful servant, Archbishop Fulton J Sheen. He has written and spoken well of Your Divine Son, Jesus Christ, and was a true instrument of the Holy Spirit in touching the hearts of countless people.
If it be according to Your Will, for the honor and glory of the Most Holy Trinity and for the salvation of souls, we ask You to move the Church to proclaim him a saint. We ask this prayer through Jesus Christ, our Lord. Amen.