1 Million Rosaries for the Unborn 2012
The Saint Michael the Archangel Organization, based in Memphis, Tenn, has launched a drive for 1 million rosaries for unborn babies between Friday 4 May & Sunday 6 May 2012. While there are located in the USA they are calling for people from all around the world to join in.
They are asking for a commitment of at least 1 Rosary during this period. However, I highly encourage you to commit to at least 1 Rosary each day, preferable in addition to the daily Rosary you should, hopefully, already be praying.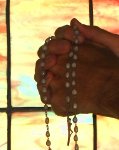 This campaign has been going on for several years. It has been endorsed by Cardinal Raymond Burke & Cardinal Francis Arinze.
I have said it many times before, prayer is the key in our battle against the "culture of death". & the Rosary is 1 of the most powerful of the weapons we have in our prayer arsenal. I once again remind you of the
Battle of Lepanto
& the
role
the Rosary & Our Lady of Guadelupe played in it.
So please, join in & commit to joining this battle. You can go to their
website
to register.