Papa Bear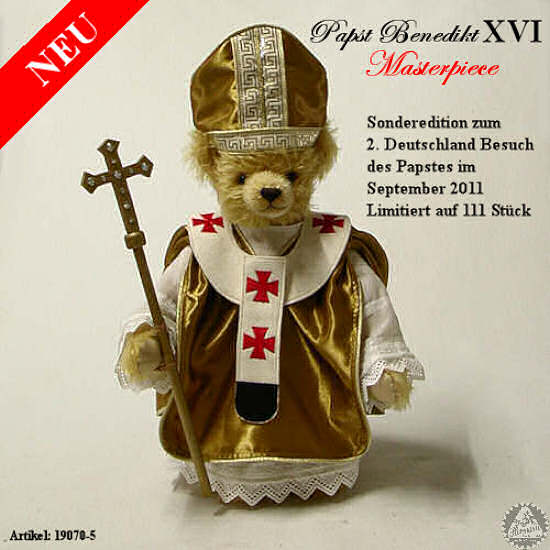 In honor of the upcoming trip by Papa Benedetto to
Germany
, the German company
Hermann-Spielwaren
has made a commemorative teddy bear. There is a limited number of them, 111 & they cost € 229.
I am a bit surprized that this isn't a brown bear like the St Corbinian's bear on his
coat of arms
. (
St Corbinian's bear
: A legend states that while travelling to Rome, Saint Corbinian's pack horse was killed by a bear. He commanded the bear to carry the load. Once he arrived, he released it from his service, and it returned to Bavaria. The implication is that "Christianity tamed and domesticated the ferocity of paganism and thus laid the foundations for a great civilisation in the Duchy of Bavaria." At the same time, Corbinian's bear, as God's beast of burden, symbolises the weight of office that Benedict now carries.)
H/T: Fr. Z (
For the one who has everything… now this!
)